Villa Type B
Villas Mamma Mia, Lanzarote
Minimum 7 days of stay
6 persons
Jacuzzi
Pool
3 Rooms
3 Bathrooms
Wi-Fi
Air conditioning
Property Description
The Mamma Mia Villas in Lanzarote are located near the well-established Marina Rubicón, the Villa
of three Bedrooms is well located near elegant boutiques and beachfront restaurants. Enjoyment of the Temperate climate of the Canary Islands in the Pool Terrace with hammocks of Designs and a private and heated pool.
The Villas Mamma Mia is designed at its entrance with the Volcanic stones of our Island of Lanzarote par excellence the memory of our Sculptor Cesar Manrique..The Rooms have a Colorful Design with the pastel colors of our Island and the Main Room with direct access and views of the Pool, sensations of Relax & Rest The Marina Rubicon Marina is located just 500 m2 from Las Villas, an ideal place to watch the sunsets and the Leisure Area that Playa Blanca offers, with the best Restaurants and Variety of our
Gastronomy, Pub & Chill Out areas where you can enjoy a good wine with its spectacular views of the island of Fuerteventura.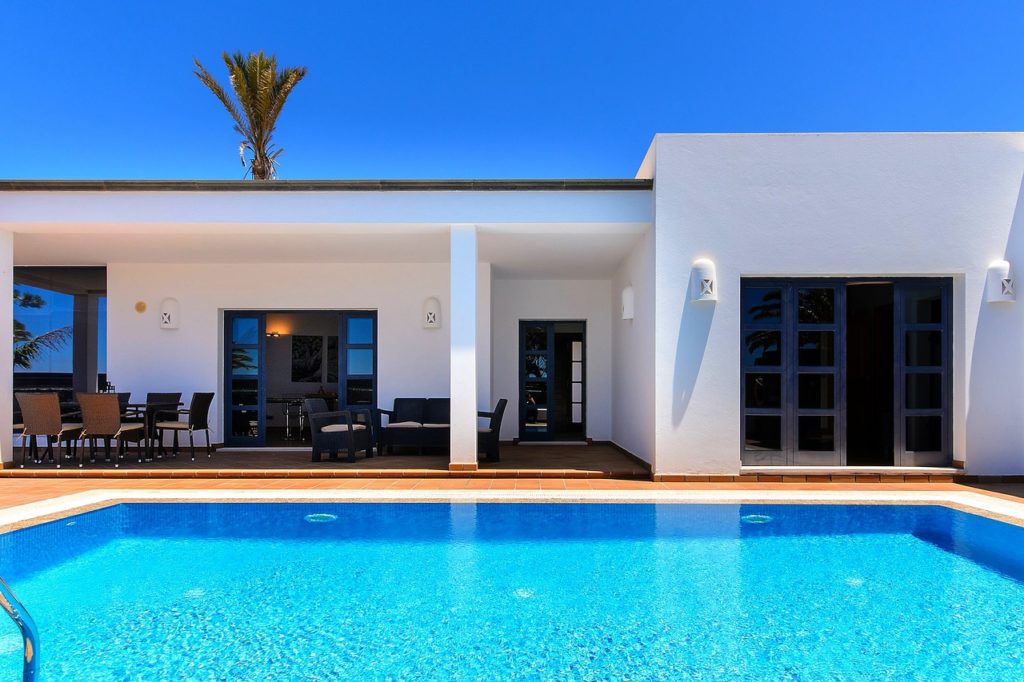 By Villas Mamma Mia
Low level
Sauna with hydromassage showers and bath.
Lounge flat screen TV, DVD player.
Leather armchairs and comfortable for a day of relaxation and reading.
DVD players, access to Wiffi, satellite TV with channels on.
Main floor
1 Main Bedroom: 1 Double bed (double), with private bathroom, Safe (Wardrobe), Tv, Air
Conditioning, Music Line
Jacuzzi and Hydromassage Showers with Garden Views Ideal Romantic Night.
2 Bedroom: 2 Single Beds with Wardrobe
3 Bedroom: 2 Single Beds and Wardrobe
1 Bathroom in the Corridor: Hydromassage Shower, Bidet, Hair dryer, Double and Wide Sinks.
Dining area with tables and design chairs overlooking the pool and terraces.
Kitchen: Fully Equipped, Electric oven, Electric boilers, and other, Refrigerator and freezer,
Dishwasher, and other utensils for cooking in the Villa and Patio with access that has a washing
machine and Ironing Board and Clothesline.
Swimming pool
The Pool is heated all year round at a temperature of 22º degrees and in winter it has an upgrade or
supplement from October to April
If you wish with a higher degree of temperature, you should consult us before arrival.
The supplement per week: € 100 (Winter / Summer)
General
Equipped kitchen
Dishwasher
Air conditioning / Selection
Pricine / bath towels
Linens
Extra pillows
Tv
Welcome surprises
Bathrobe in the master bedroom
Ameneties
Indoor
3 bedrooms
3 full baths
Living room
3 bedrooms
Sauna
Jacuzzi
Wifi
Outdoor
Climatized pool
Barbecue
Garden furniture
Terrace
Solarium Zone
Pool area showers
0
EXCELENT
☆☆☆☆☆ 4/5
74 Good for getting around on foot
Rank: 74 out of 100
56
Restaurants
within a radius of 1 km
17
Attractions
within a radius of 1 km
LOCATION
☆☆☆☆☆ 4/5
CLEANING
☆☆☆☆☆ 5/5
SERVICE
☆☆☆☆☆ 5/5
QUALITY-PRICE RATIO
☆☆☆☆☆ 4/5
The Villa is very comfortable. Large dining room, very good kitchen with air conditioning and dishwasher. And its heated pool in the winter. Near Restaurant and Leisure Areas a few meters from Puerto Deportivo Rubicón.
ThomasI would definitely return
We live it all. Maria, the hostess, was excellent and the fact that we came up with a number of lovely gifts like wine, chocolates, fruit and even two gift baskets of toiletries, was delightful.
SimonWe live it all
The Villas with a location is great to go to the marina and Playa Blanca. The pool was clean and having the pool heated in March was excellent. Lots of tableware available to use.
Lia SWe recommend it without hesitation